Blog records: 2011 N/A Blog|Month_6
29.06.2011 11:03
I've been wanting to scrap these pictures of my son at his football practise but never been happy with the results I've gotten. Finally I've managed to create a LO I am happy with! Here I used It's a Guy Thing by Down This Road Designs and Scraps by Mara.
27.06.2011 12:00
VM Squared Designs has this gorgeous template available for download at the
Tuesday Template challenge at ScrapMatters
.
And here is my take on this fun template.
The kit I used is called Tangerine Twist by LDrag Designs
24.06.2011 09:23
Angie over at Down This Road Designs has this beautiful new kit out today at her store at
ScrapMatters
. It is called
Summer Skies
and isn't it goregous!
I made these LO's with this fun kit.
23.06.2011 10:03
Jeanine posted this fabulous LO in her gallery a little while back and we are wanting to ask you all to scraplift her LO.

What you need to do is:

* You need to create a LO - any size you scrap is fine.
* You will need to use a Jeanine DeOre product.
* You can use as many papers as you want.
* You can only use 2 elements, no repeats - so 2 in TOTAL.
* You need to save the LO like this: name_scraplift7.
* Post your LO in Jeanine's gallery at ScrapMatters as well as post a comment here (@ Jeanine DeOre's blog) linking us back to your LO.
* All LO's are due by midnight EST on Thursday the 30th.

The winner will be notified via PM at ScrapMatters no later than July 1st.
And what will the winner get? $5 off of any Jeanine DeOre order, except collabs. This is good thru 7/15.

And here are two fabulous examples by EllyMae
And one by me - Hildur

We are really looking forward to seeing what you guys come up with.
16.06.2011 10:47
Well since Father's Day is just around the corner I created a brag book by using a kit called
William
by Jeanine DeOre. This brag book is available on her blog and by clicking
here
or the image you'll be taken directly to her page where you can download the brag book. Enjoy!
14.06.2011 12:17
Are you guys up for some blending tutorial? If you are wanting a great tutorial head on right over to
Jeanine DeOre's
blog and read a tutorial about blending posted by
Michele.

Michele's tutorials are so easy to follow but give you great information, so make sure you don't miss this one!
09.06.2011 14:40
For those of you who do not know,
ScrapMatters
hosts a template challenge every week where the participants download a template and make it their own. This week it was Kim B's Designs who supplied this gorgeous template - you can check out the thread
here
and even take part!
For this template challenge I used a kit called
Tangerine Twist
by LDrag Designs
And then for another LO I did today.
Here I used Carpe Diem a collab by
Piximama Designs
and Digilicious Designs and a template from Pixiemama Design's template package called
Make The Cut Vol. 1
.
08.06.2011 12:50
It was my job today to pick out the LOTW for Jeanine DeOre this morning and let me tell you how hard that was! But I came to a conclusion and picked this gorgeous LO by callieclaire called Darling Adventure. She used The Poppies Collection by Jeanine DeOre
Click the image or
here
to leave her a comment
And here is the kit she used.
Click the image to lead you to Jeanien DeOre's
store
.
07.06.2011 13:11
I was browsing the forum at
Scrappity-Doo-Dah
and came accross a thread called
Artful Scrapworks Challenge
and of cause got curious .....
The June challenge is to create an art journal that you can use for what ever you need. I even pondered this project for a little while before I actually went ahead and got a spiral journal and started my projec and this is the results. Rather happy with it being that I have never altered anything before, so what do you thin?
06.06.2011 09:46
Just a quick reminder to let you all know that Jacabean Designs retirement sale is still going strong and will be until Saturday. Don't miss this oppertunity to get her kits, you can even buy her store for $20!!!! How crazy is that. Can't beat that deal!
Image is linked, or you can click
here
to be taken directly to her store.
05.06.2011 14:24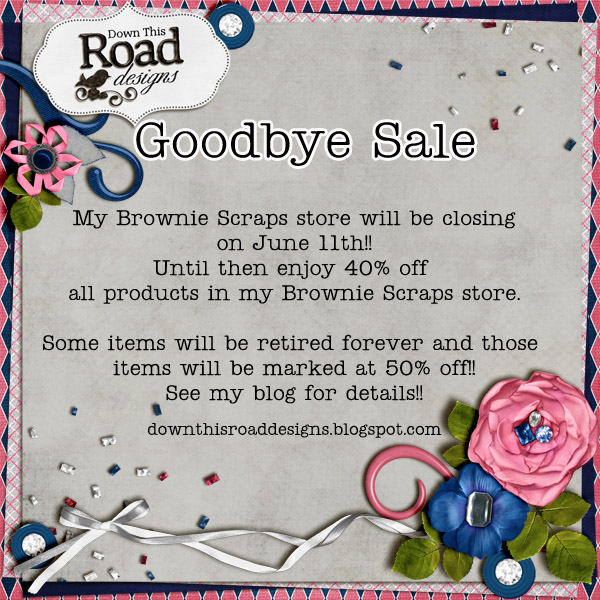 The above image is linked or you can click
here
to access her store.
04.06.2011 22:20
Daditude
by Pixiemama Designs
Daditude
by Pixiemama Designs
Make the Cut V.1
by Pixiemama Designs
Cherish
by Down This Road Designs
01.06.2011 21:06

Destination: Vacation by Jeanine DeOre and Elsie's Pices



Destination: Vacation by Jeanine DeOre and Elsie's Pieces



Miracle by Inspired by Dominic Designs
Miracle Prompts by Inspired by Dominic Designs
A New Day Date Brushes by Inspired by Dominic Designs



Oceanside papers by Down This Road Designs
Oceanside patterns by Down This Road Designs
Oceanside elements by Down This Road Designs



I heart my family by Down This Road Designs



Cherish by Down This Road Designs


And lastly, do remember to stop by at Jacabean Designs retirement sale! Her deals are too good tomiss!! You can buy her store at ONLY $20 or individual kits at 50% off!!!
Today's page views: 100
Today's unique visitors: 12
Yesterday's page views: 39
Yesterday's unique visitors: 10
Total page views: 166424
Total unique visitors: 50011
Updated numbers: 22.1.2019 19:21:10
Links
Who am I?
My name is Hildur and I am a 31 year old mother of two, a 5 year old boy and a 3 year old girl. I've been married to my best friend for 10 years. I work in special ed, where I mainly work with children on the autism spectrum. I love scrapping and use it as a way to get some me time. I am currently on 4 CT teams as well as a SMG at ScrapMatters. Here you'll find my LO's, as well as what is happening with my designers and ScrapMatters community. Once in a while I'll post a freebie or some challenge I am taking part in or hosting.