Blog records: 2011 N/A Blog|Month_5
30.05.2011 07:38
I hopped on the computer to check my mail before heading to work and what do I see! A message from
Scrappity-doo-dah
telling me that I was LOTD for this LO
I used
Dirty Jeans
by Inspired by Dominic Designs

29.05.2011 20:06
Here they are, finally!!!! A few new LO's from me.
Spring Crush Template by
Pixiemama Designs
- a Newsletter exclusive
Dusty Jeans
by Inspired by Dominic Designs
Timeless
by the ScrapMatters Designers
Mud Pie
by Jacabean Designs
24.05.2011 21:00
After getting random thoughts of Tiffany at
Inspiredbydominic Designs
over the past few weeks I finally sat down and sent her an e-mail. But I as on her CT team some months back but had to take a break due to busy life. And she had been so sweet to keep my CTM spot warm for me and welcomed me back with arms wide open.
Thank you so very much Tiffany, I am really looking forward to working with you again.
23.05.2011 09:41
Jackie of Jacabean Designs is having a retirement sale that started yesterday atBrownie Scraps.
I am so terribly sorry to see her leave the digital world as her designs are fantastic!!!! By all means head on over to her store and check out her amazing designs.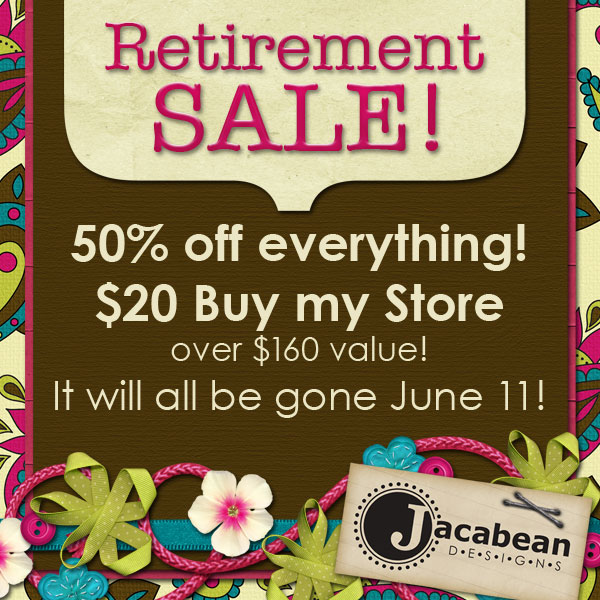 12.05.2011 21:45
If you havn't, you most certainly should! She has so many gorgeous products that you just have to have!
My favorite of hers are the following (all images are linked):
Don't even think that these are her only designs, head on right over to her store at ScrapMatters and you'll see her fantastic
store
.
For further information head on right over to her
blog
and see what is new with Jeanine DeOre
11.05.2011 11:37
I just realized that I never got around to uploading all my LO's!!! I desperately am needing to upload my new LO's to the gallery and plan on doing so tonight. So remember to stop by tomorrow to see all the LO's and what my fabulous favorite designers have been up to lately.

11.05.2011 11:35
ScrapMatters hosts this amazing Stack Exchange challenge and I encurage you all to head on over there and take part in this fun challenge. Once the time is up you'll get everybody else's work too :) How fun is that!!!!
Today's page views: 100
Today's unique visitors: 12
Yesterday's page views: 39
Yesterday's unique visitors: 10
Total page views: 166424
Total unique visitors: 50011
Updated numbers: 22.1.2019 19:21:10
Links
Who am I?
My name is Hildur and I am a 31 year old mother of two, a 5 year old boy and a 3 year old girl. I've been married to my best friend for 10 years. I work in special ed, where I mainly work with children on the autism spectrum. I love scrapping and use it as a way to get some me time. I am currently on 4 CT teams as well as a SMG at ScrapMatters. Here you'll find my LO's, as well as what is happening with my designers and ScrapMatters community. Once in a while I'll post a freebie or some challenge I am taking part in or hosting.