Blog records: 2011 N/A Blog|Month_4
30.04.2011 22:20
Of cause I couldn't but help myself and actually give hybrid a try after watching all the beauties that others have created!
Anyways, my daughter will turn 3 in just few days and I am wanting to create things for her birthday party such as cup cake toppers and such. I did start out though with this birthday sign that I made by using Down This Road Designs new kit called My Sidewalk Art.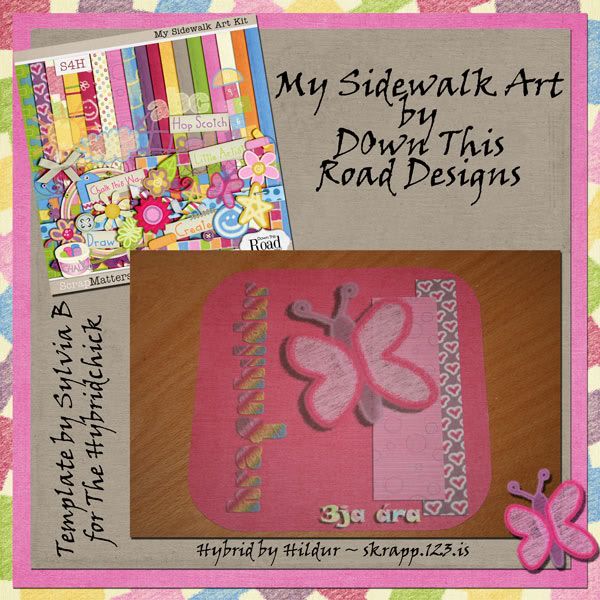 You can find the hit here:
My Sidewalk Art
by Down This Road Designs
My Sidewalk Art Rainbow Alpha
by Down This Road Designs
29.04.2011 16:25
What's the Brownie Addicts you say? It's the monthly scrapbook club over at Brownie Scraps. As a member of the addicts for the month of May, you'll get:
A free mini kit upon purchase (sneak peek shown in the ad)
Instant (and FREE) access to the May Addicts Super Mega Kit (Monthly Mega + Bytes add-on)...this mega is HUGE!!!
A full, FREE, never before released kit
Access to a Members Only forum with lots of chatting and exclusive challenges
Exclusive coupons just for members!
Additional exclusive freebies!
Guaranteed to Satisfy your ADDICTION!!
The price of the addicts membership is $7 until May, then it goes up to $10.
BUT, we're giving one lucky scrapper a FREE membership this month! Leave us some love here for your chance to win. Better hurry though, the winner will be drawn on Sunday!
To try to win a free membership click
here
and leave them a comment.
21.04.2011 16:35
Natalee - a fellow CT leader for
Jacabean Designs
and
Down This Road Designs
- is a guest designer at Brownie Scraps and has this gorgeous kit for sale. Please do stop by and look at her store.
Click the image above or go to this link
here
.
20.04.2011 09:50
Well it is about time that I make an appearance, right!!
Life has been busy and gone by way to quickly like for so many of us. I am still on Jackie (
Jacabean Designs
) and Angie's (
Down This Road Designs - Brownie Scraps
,
Down This Road Designs - ScrapMatters
) CT team I recently joined the CT team of
Jeanine DeOre
over at
ScrapMatters
as well as becoming a ScrapMatters Girl which I was super excited about!
And as a special tribute to me being back on my blog I want to show you this gorgeous kit that the Design Team at ScrapMatters have put together called Up, Up & Away by the ScrapMatters Design Team. How gorgeous is this kit! Filled with bright beautiful summer colors, this kit contains 24 papers and over 60 elements that aid you in creating so many different - yet beautiful - LO's.
To grab this amazing kit you can either click the image above or follow this
link
.
Today's page views: 100
Today's unique visitors: 12
Yesterday's page views: 39
Yesterday's unique visitors: 10
Total page views: 166424
Total unique visitors: 50011
Updated numbers: 22.1.2019 19:21:10
Links
Who am I?
My name is Hildur and I am a 31 year old mother of two, a 5 year old boy and a 3 year old girl. I've been married to my best friend for 10 years. I work in special ed, where I mainly work with children on the autism spectrum. I love scrapping and use it as a way to get some me time. I am currently on 4 CT teams as well as a SMG at ScrapMatters. Here you'll find my LO's, as well as what is happening with my designers and ScrapMatters community. Once in a while I'll post a freebie or some challenge I am taking part in or hosting.