Blog records: 2009 N/A Blog|Month_6
01.07.2009 00:00
Here comes the July blog train by the half baked girls at Brownie Scraps.
This time around it is a them of "Book of me". And it is a theme that will be continued at least next month :)

Here comes my preview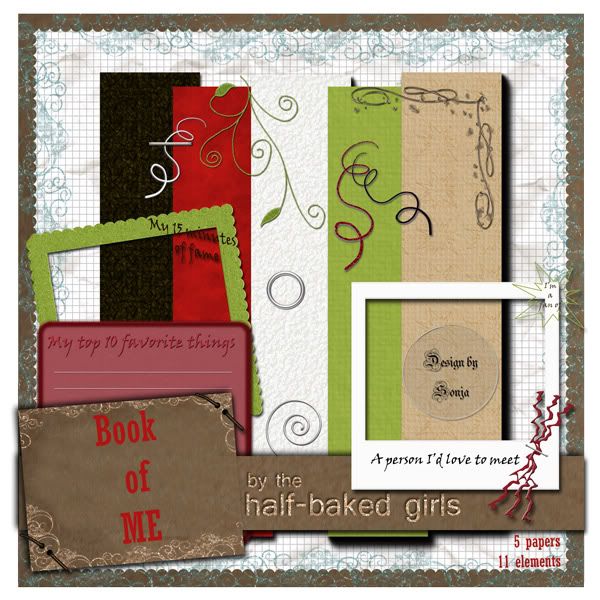 Link has expired

Please keep in mind that we are in different timezones in various parts of the world and therefore, the kit parts will not be all up at the same time. Therefore, if you find that a part has not been posted come back few hours later to see if it has been posted.

The list of the other blog trains can be found here:
FlutterbyeFaery Designs
Design by Sonja <- you are here
Mariposa Designs
Mad Genius Designs
JewelScraps
Today's Scrap
30.06.2009 20:38
I was offered the lovely surprice of becoming a guest CT for
Redju Designs
. I will be CT-ing either at the end of July or beginning of August. And have to admitt that I am really excited!
27.06.2009 00:01
Well here it is, a one of a kind kit, the Child Care Emergency Kit collaboration. Inspired by one of the wonderful Brownie Scraps girl's who is starting her own home daycare any day now. It was such a wonderful idea and fun to work with these vivid colors and to see them forming something so special with all those different parts from all of us.
Do follow the list of mini-blog hops below for the whole Child Care Emergency Kit.
Hope you enjoy it at least half as much as we enjoyed creating it!
Link has exspired
Please keep in mind that we are all in different time zones and therefore it may vary up to 12 hours when the kits are posted. If a kit portion is missing by all means just pop by few hours later to see if it hasn't been posted at that time.
Ohana Designs
Inspired by Dominic Desgins

Jacabean Designs

Design by Sonja
<- you are here!
Mariposa Designs
26.06.2009 23:37
I was browsing Colourlovers and came across this eye catching color palette and instantly thought of a kit.
The kit will be called ... most likely .... Baby Doll and it will be ideal for a fun girlie night out.
25.06.2009 14:55
I took a trip down memory lane today and was browsing through old photos and came accross this picture of hubby taken back in 1999 - gosh another century! And I just knew I'd need to scrap it. For this picture I used Felty Flowers by Jacabean Designs, and despite being all flowery I thought it would suit well for a guy since the colors were this dark.
Pictures taken back in 1998. LO made with Legacy Love by Jacabean Designs.
Next week there will be a lot to look forward to as the July Blog will be awailable as of July 1st here on my blog as well as the lists of all the other stops. And a collaboration kit will also be released around that time. Check back for updates.
18.06.2009 23:28
Being that I just have been accepted as Jacabean's CT member I might just as well dive into the deep end of the pool and create my very first CT LO. And I have to admit that I am quite happy with the outcome of the LO.
The model is my 12 month old daugther who had been having a blast playing out in the backyard and aparently got hungry since she decided to taste the awailable flowers!
The title reads "Flower girl"
LO created with Coming Up Roses kit by Jacabean Design's
LO created with Coming Up Roses kit by Jacabean Design's
17.06.2009 21:34
I have been accepted to my first creative team (CT). I am extremely thrilled about that and am very excited about starting.
I am on the CT team for
Jacabean Designs
with four other fantastic girls whom I all happen to know. You can find their blogs in the links to the right under Jacabean Designs CT Team.
And yeah while it is still early - Happy Independance Day to all you fellow Icelanders out there.
14.06.2009 17:32
Evie (flutter buy faery) told me about a fun
site
today where you can put in the hex code for the color and it tells you what the name is.
Thanx Evie
13.06.2009 22:06
I am very happy to announce that I made it into rounde 2 at The Next Best Thing at
www.digitalscrapink.com
. Wasn't quite expecting to the second round - though one always does hope - as there are some wonderful designers there that have thought me a lot and I admire and feel honored to actually get to take part in the same challenge as they do!
Congratulation and good luck to you all 2nd rounders at DSI
13.06.2009 09:23
Today it will be announced who will advance to round 2 in The Next Best Thing. Therefore, I will be watching out the announcement around 12 pm EST or 4 pm GMT. And despite being sure I am not advancing there is still an itty bitty ray of hope that I actually might be one of the lucky ones.
Keep your fingers and toes crossed!
10.06.2009 17:26
I was able to finish my kit "Orange Blossoms" for Round 1 at The Next Best Thing over at DSI. For those interested, check out the
gallery
.
07.06.2009 22:43
I felt it was time to recreate my logo since I never was too pleased with the first one!


* it does look better when the background isn't white!
06.06.2009 08:22
There is pleanty to look forward to in the next month, I am taking part in a July Blog Train at Brownie Scraps and will be taking part in a competition call The Next Best Thing over at Digital Scrap Ink.

Am also in the organization stages of an Iceland kit and have another idea for a beach / ocean kit. Keep checking here to see if something has been uploaded.
03.06.2009 23:17
I just uploaded few new LO's to the album section. Do take a peak at them and feel free to leave comments :)

01.06.2009 10:12
Make the most of this freebie as it will only be available for a week before it will be taken of all the blogs and put into one mega kit and sold at Brownie Scraps for all proceeds going towards ALS awareness.



Link had expired

The kit previews



The # 1 Dad Kit Blog Train
Follow the train of blogs to form a full mega kit
Today's page views: 67
Today's unique visitors: 12
Yesterday's page views: 39
Yesterday's unique visitors: 10
Total page views: 166391
Total unique visitors: 50011
Updated numbers: 22.1.2019 18:47:56
Links
Who am I?
My name is Hildur and I am a 31 year old mother of two, a 5 year old boy and a 3 year old girl. I've been married to my best friend for 10 years. I work in special ed, where I mainly work with children on the autism spectrum. I love scrapping and use it as a way to get some me time. I am currently on 4 CT teams as well as a SMG at ScrapMatters. Here you'll find my LO's, as well as what is happening with my designers and ScrapMatters community. Once in a while I'll post a freebie or some challenge I am taking part in or hosting.