Category: Jacabean Designs
06.06.2011 09:46
Just a quick reminder to let you all know that Jacabean Designs retirement sale is still going strong and will be until Saturday. Don't miss this oppertunity to get her kits, you can even buy her store for $20!!!! How crazy is that. Can't beat that deal!
Image is linked, or you can click
here
to be taken directly to her store.
23.05.2011 09:41
Jackie of Jacabean Designs is having a retirement sale that started yesterday atBrownie Scraps.
I am so terribly sorry to see her leave the digital world as her designs are fantastic!!!! By all means head on over to her store and check out her amazing designs.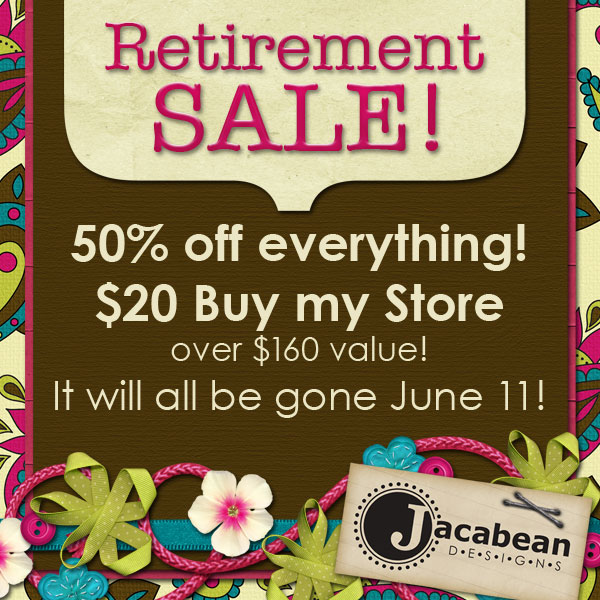 Today's page views: 100
Today's unique visitors: 12
Yesterday's page views: 39
Yesterday's unique visitors: 10
Total page views: 166424
Total unique visitors: 50011
Updated numbers: 22.1.2019 19:21:10
Links
Who am I?
My name is Hildur and I am a 31 year old mother of two, a 5 year old boy and a 3 year old girl. I've been married to my best friend for 10 years. I work in special ed, where I mainly work with children on the autism spectrum. I love scrapping and use it as a way to get some me time. I am currently on 4 CT teams as well as a SMG at ScrapMatters. Here you'll find my LO's, as well as what is happening with my designers and ScrapMatters community. Once in a while I'll post a freebie or some challenge I am taking part in or hosting.